Organic Spirulina & Chlorella Tablets
Organic algae superpower in a convenient format
Organic Spirulina & Chlorella Tablets
Organic algae superpower in a convenient format
50% organic spirulina and 50% organic chlorella

High in iron and vitamin D to support your immune system

High in manganese to protect the cells against oxidative stress

Source of vitamin B12 to fight fatigue 

Contains no fillers or additives
How do I use it?
Quality & Provenance
Ingredients
Why is it good for me?
Find out more
Nutrition
How do I use it?
To support your immune system and energy levels take 3 tablets, twice a day, preferably with water, around 30 minutes before meals. Do not exceed the stated dose.
Quality & Provenance
Spirulina and Chlorella are some of nature's most nutritious foods and have existed for over 2 billion years.
Spirulina is a fierce green-blue algae that has developed a remarkable ability to withstand harsh environmental conditions pesticide-free. The Spirulina in our tablets is of the finest organic quality - it grows in freshwater ponds under warm sunlight on an island in the South China Sea. The ponds are tested daily for pH value and optical density. Surrounded by rich forest, it is protected from urban and agricultural pollution. When ready, spirulina is carefully harvested wtih a mesh-screen that captures the small coiled filaments from the water, then sieved and hand-washed, ensuring that only pure spirulina is used to produce our tablets. Upon arrival in the UK, each Spirulina batch is tested for mercury, lead and other contaminants that often occur in conventional spirulina products.
Chlorella is a single-celled microalgae that has survived some of the most threatening environmental conditions hence developing various survival strategies and a fantastic ability to neutralise toxins. So small that it can only be seen through a microscope, yet amazingly mighty - when cultivated following the best practices, Chlorella cells reproduce at an incredible pace up to 8 times a day. Therefore, organic Chlorella is a sustainable food and supplementation source.
Our Chlorella is grown and harvested on a secluded island in the South China Sea. It drinks from freshwater ponds, drawing filtered water from deep in the ground. Chlorella is gently mixed regularly to ensure that the natural sunlight reaches all the cells in the ponds. This facilitates photosynthesis, the process by which plants convert sunlight into energy to grow and multiply rapidly. Secluded and surrounded by a dense forest, Chlorella is never exposed to the risk of contamination from agricultural runoff.
As Chlorella has a very hard outer shell that cannot be digested by humans, our Chlorella is milled to crack the indigestible cell walls. This process makes maximum nutrients accesible during digestion.
Our Chlorella & Spirulina tablets bring together these two powerful ancient plants in an extremely convenient format to guarantee that you get a maximum boost of high-quality nutrients in one simple step.
Ingredients
Each 500mg compressed tablet contains: Organic Spirulina Powder (50%), Organic Chlorella Powder (50%).
Why is it good for me?
Iron, vitamin D and vitamin B12 contribute to the normal function of the immune system.
Manganese contributes to the protection of cells from oxidative stress .
Vitamin B12 and iron contribute to the reduction of tiredness & fatigue.

Find out more
Nutrition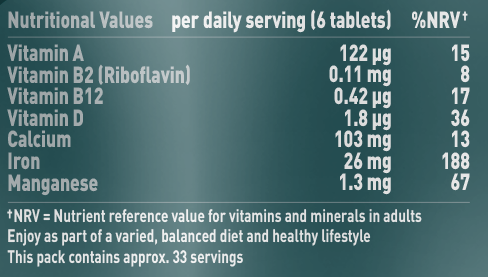 Latest Reviews
Customer Reviews
Write a Review
Ask a Question
01/12/2022
Khalid M.

United Kingdom
Easy to take.
I bought spirulina powder but found I did not like the taste. The tablet makes it easy to take and also with chlorella which I also wanted to get but I was not sure if I should because I thought that I might not like the taste of that either.